Welcome to Barokkfest 2020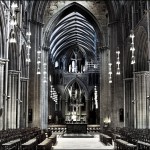 A very warm welcome to Barokkfest 2020!

We are proud to announce that Barokkfest 2020 will be held between January 28th and February 2nd.

Our festival aims to share first class music experience within exceptional historical venues. Taking place in the Nidaros Cathedral, the world's northernmost gothic cathedral and the other magical, historical venues of Trondheim, the program features world leading artists alongside some of Scandinavia's finest musicians in the field of early music. This year we have aimed higher than ever, and we simply cannot wait to show our audience what Barokkfest 2020 will bring.